The ICBEN-Congress 2021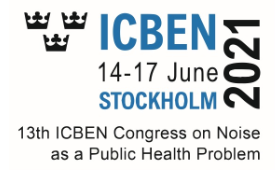 The 13th ICBEN congress was held 14-17 June 2021 as a fully virtal conference, organized by the Karolinska Institute in Stockholm, Sweden. The executive committee of ICBEN acknowledges the great efforts of the local organizers, and gratefully thank all the sponsors of the congress, to have made ICBEN 2021 a phantastic experience for all that attended!
ICBEN award 2021:


The ICBEN Executive committee congratulates Irene van Kamp for having been awarded the ICBEN Award of Excellence in Research on the Biological Effects of Noise**

Congress papers:
Congress papers are available on the proceedings page.

** The ICBEN Award of Excellence is sponsored by Lawrence S. Finegold and the Michiko So Finegold Memorial Trust